iMAG® SQUID Electronics
Tristan offers two types of SQUID electronics – the iMAG300 series pdf and the iMAG400 series pdf. iMAG® Flux-Locked Loops are offered in both HTS and LTS versions. The HTS versions use an advanced bias reversal technique that effectively reduces low-frequency noise in HTS SQUIDs without introducing noise spikes in the output spectrum. All standard iMAG300 and iMAG400 electronics are CE marked.
Series 300 SQUID Electronics
The iMAG300 series is designed for those users who prefer stand-alone electronics with a wide variety of visual and computer interfaces. A master control electronic unit (model iMC-303) is used to control up to three separate single channel flux-locked loops (model iFL-301). Optical fiber communication (CC-6) is used between the model iMC-303 control unit and the model iFL-301 flux-locked loop(s) to reduce the shielding problems inherent in conventional SQUID electronics. The microprocessor based iMAG® controller automatically tunes and controls up to three sensors and provides IEEE-488 and RS-232 interfaces for control and high-speed data acquisition.
iMC-303 iMAG Multichannel Controller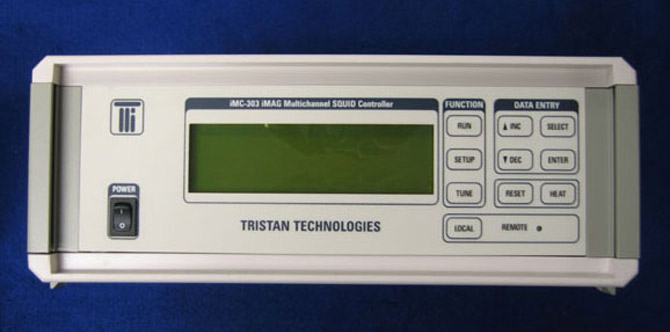 The iMAG® SQUID controller forms the basis of a powerful and flexible measurement system. Its three-channel capability accommodates nearly all laboratory SQUID applications without incurring the cost or complexity of eight-channel designs. For the experienced user, the Tristan model iMC-303 Control Electronics offers complete manual control of all SQUID parameters, including bias level, modulation amplitude, "skew" level, dc flux level in the SQUID (offset), heater and integrator reset. All parameters are easily adjusted using the membrane keypad and a convenient menu-driven interface. Users who want a fully automated system will use the one-touch tuning capability that rapidly and reliably optimizes the level of all critical parameters.
High-resolution A/D converters and the standard GP-IB bus make the iMAG® controller ideal for use with computerized data acquisition. Use the rear-panel BNC connectors to monitor the high-level analog outputs. An auxillary channel input allows you to synchronously digitize your own signal along with the three SQUID signals using the controller's internal A/D converter.
iFL-301 Series Flux-Locked Loops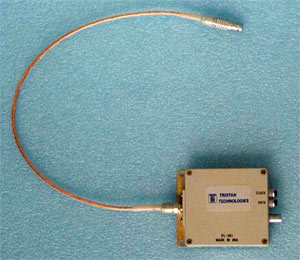 The iMAG® flux-locked loops (FLLs) provide superior performance under a wide range of operating conditions. The Tristan design locates the FLL as close as practical to the SQUID sensors and eliminates the need to run low-level or high-frequency leads over long distances; dc power and the high-level analog output are the only electrical connections required between the iFL-301 and the iMC-303 Controller. The high-frequency clock signal and digital control signals are all supplied via a 6-meter optical fiber (model CC-6 composite cable). A short cable connects the FLL to the Cryogenic Cable, allowing the compact FLL to be conveniently mounted near the dewar, but out of the way of the liquid cryogen transfers.
Tristan's advanced design provides superior radiofrequency (rfi) rejection and allows for long cable runs, even in hostile environments. 20 meter and longer Composite Cable lengths are available on special order. It is a simple matter to locate the FLL inside a shielded room and operate it using an iMAG® Multichannel Controller located outside the room.
Series 400 SQUID Electronics

The iMAG400 series combines the functions of a master control unit and multiple channels of flux-locked loops in a compact single unit that provides all necessary control signals (bias, modulation, and feedback, heater drive) necessary to operate up to four SQUID sensors. iMC-404 flux-locked loops can be combined to allow up to 119 channels to be simultaneously controlled on a single RS-485 control circuit.
For low channel count systems, a model iPS-400 power supply is used to power one or two separate iMC-404s for a maximum of 8 channels. For lower channel count requirements, the iMC-404 can be supplied in 1, 2, or 3 channel versions. For higher channel count systems (up to 119 channels/RS-485 circuit), the iMC-404 is supplied in a card cage version along with a 19" rack mount card cage and an associated power hub. For systems requiring more than 119 channels, multiple RS-485 circuits can be used for virtually an unlimited number of SQUID channels.
The iPS400 Power Supply
The iPS-400 provides conditioned power for up to two iMC-404 flux-locked loop control boxes. It also provides the user with front panel selectable analog output (nominal 600 W) that can monitor the output of up to 8 SQUID channels. Rear panel connectors include cabling to the iMC-404 flux-locked loop control box(es) and a National Instruments compatible 68-pin connector provides differential analog outputs for 1-8 channels. The iPS-400 can also be configured to operate on dc (± 6V) power.

The Model CCS Constant Current Supply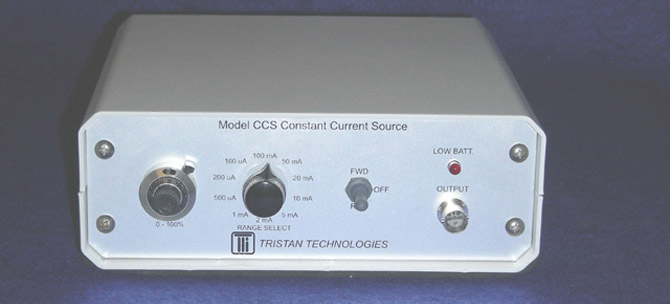 The Tristan Model CCS Constant Current Supply ( pdf) is a miniaturized, self-powered current source that is particularly useful for measurements which require excellent rf shielding as well as a high degree of electrical isolation from ground and the power line. It is ideal for use with the Tristan Model MFP Picovoltmeter probe. The unit should also find wide application in the laboratory as a general purpose constant current source for small coils and magnets, cryostat heaters, resistivity measurements, teaching experiments, etc.
The Model CCS provides a highly-regulated, floating current output controlled by a ten-turn potentiometer. The full scale current is switch selectable in 1-2-5 steps between 100 µA and 100 mA. The maximum output voltage exceeds 2.5 V on all ranges, giving a maximum output power of 250 mV. The standby drain of the circuit is low and a positive indication of battery endpoint is provided by a flashing lamp, which is also triggered by voltage overload resulting from excessive load resistance. The unit is completely insulated from the enclosing metal case.